What do I do on Monday morning?
This phrase has stayed with me for more than 20 years.
It all came about back in South Africa when I had just been promoted to a Human Resources position in the training department of the South African Breweries. Roslyn Brewery — which was to become the largest brewery in the Southern Hemisphere — was just starting up and I was responsible for the training of all employees. In fact, my job was to help the company achieve success through team performance. In South Africa at that time there was a huge oversupply of unskilled labour and a corresponding shortage of people with technical skills, so the task I was given was enormous.
I asked everyone I knew for advice. Finally, I approached the general manager, a man called Graham Mackay (destined to become CEO of SAB Miller, the second biggest brewing company in the world.) He looked me straight in the eye and said: 'There's only one question I want to be answered: What do I do on Monday morning?'
I had to think about it for a bit. Then I realised that what he really meant was, give people practical advice so they know exactly what to do and how to do it - do not waste time with too much theory and abstract thinking. As I said, I have never forgotten that advice.
And much of what I have learnt is contained in this book, What do I do on Monday morning?
The book has been designed as a daily reference guide for improving the organizational performance of businesses, using the proven Sacher Associates systems. Starting with January 1, What do I do on Monday morning? lays out a template for performance improvement in sequenced and practical daily actions and advice. It can be read as a book and then used as a daily reference tool. It is designed to sit on a desk as an ongoing reminder of what is needed to keep the business on track.
One of our strengths as a consultancy is our ability to deploy our expertise in the written, electronic, and online formats. Our courses, training materials and books are tried and tested and have evolved from hundreds of workshops and consulting assignments where strategic plans performance management and measurement systems have been developed and implemented.
When we first published Performance Measures Applied and A Commonsense Approach to Business Planning in the 1990s, they sold thousands of copies to organisations of all sizes including over 70% of Australia's top 100 companies. They were reviewed in publications such as the BRW, The Australian and The Company Director Journal. Many publications have since followed. Chief executives, senior public servants, and people at all levels of management have continued to be involved in workshops and projects run by Sacher Associates. The result has been an invaluable databank of practical information, examples, case studies and feedback.
What people say about What do I do on Monday morning?
... a world away from those dry volumes gathering dust on most managers shelves. David Farlie, SAAB Systems
This book is a condensed version of virtually every business management book you will have read. Nigel Neumann, HRM, Flinders Power

This is a book that should be on every managers' desk. Any manager who practises what is in this book, cannot help but succeed. John Gilbertson, CEO, Bitemark

Definitely stylish and worth reading. Geoff Rip, CEO, Change Lever International
This book addresses the strategic issues that should be at the forefront of thinking of people in leadership positions. A very encompassing thought-provoking reference. Mike Janes, Chairman of the Board, ETSA
This book is perfect for what I need. Within three hours of receiving, it I ordered another 20 copies... This is a book that people who do not read management books will read. Duncan Fraser, National General Manager, Boral
It is excellent. I was delighted with it. I thought it was refreshing and inspiring. And so easy to read. So visual. It is a very good visual prompt book. Dennis Sparrow, Education Department, SA
A practical approach to improving productivity without spending hours going through a mentoring or training approach. David Gordon, CEO, Kepler Analytics
HOW CAN WE HELP YOUR BUSINESS?
Discover how we can help your business increase productivity and improve performance:
Discussion on consulting requirements
Diagnostic review of your company
Individual and Team solutions
Introduction to our Online Courses
Customised courses and delivery solutions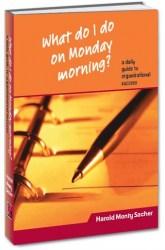 Book a clarity call today and we'll also send you our e-book What do I do on Monday morning?
The book helps you get started on performance improvement using a sequence of practical daily actions and advice.